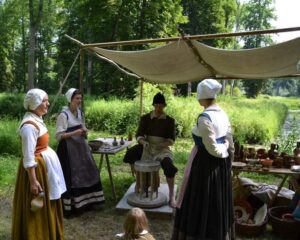 Atelier Able is a one-man pottery run by Aebele Trijsburg from the Netherlands. Its main goals are making replica pottery, giving pottery throwing demonstrations and sharing information about historical pottery.
Making replica pottery
My main focus is on late medieval and post-medieval European ceramics. In order to get as close as possible to the original objects, I study archaeological artefacts, literature, contemporary art and written sources with great care. The production process does not only involve making the ceramics themselves but also making all kinds of tools that a modern pottery supply store doesn't have, for example moulds and wooden ribs with specific shapes. Coming to the production, authentic materials are chosen and worked by hand, following the historical production process as close as necessary to get a product without traces of modern making. With some materials I make concessions, especially with glazes: a lot of historical glaze recipies contained lead but I don't use lead to avoid health problems both for myself and my customers. They can be used for educational purposes, historical experiments, re-enactment, living history and in everyday life.
Pottery demonstrations
Some years ago, I made a reconstruction of a historical potter's wheel, based on late medieval and early modern iconography. With this mobile kickwheel I can attend events both in- and outside the Netherlands to demonstrate how pottery was made in historical times. I own a number of different historical outfits which allows me to portray a potter in the 14th, the 15th and the late 16th / early 17th centuries. I usually demonstrate during living history events.